Lab presents its work at ERCIS annual workshop
Members of the ERCIS network recently gathered for their annual workshop, kindly hosted by the Leiden Institute of Advanced Computer Science (LIACS) at Leiden University, in collaboration with the Leiden Center of Data Science. The workshop is an ideal opportunity to introduce new members from around Europe and to discuss current trends, new developments and plan joint research initiatives.
A key theme this year was the confluence of data science and information systems – specifically, the huge impact of social media and implications for data privacy with the advent of the GDPR (General Data Protection Regulation).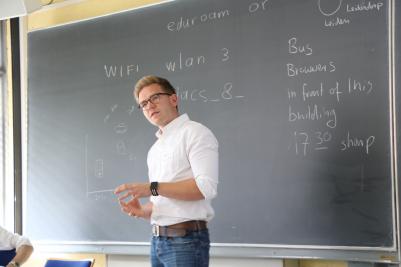 This is a key focus area for the ERCIS Omni-Channel Lab - a partnership between Arvato and ERCIS – and Karsten Kraume (CSO/CIO at Arvato CRM) and Markus Heuchert (ERCIS) presented the Lab's 'Social Media Monitor'.
This proprietary tool, designed and developed by the Omni-Channel Lab, automatically gathers data from social media platforms, crunches the numbers, and derives KPIs for service quality. An important aspect is its ability to compare the competitive landscape within and across industry verticals.
"The Lab's Social Media Monitor tool can deliver very valuable market insights into service quality across industry verticals." said Karsten Kraume, from Arvato. "Of course, as a global leader in the CX/Customer Services sector, data privacy is a top priority for Arvato. Being able to explore the topic at our workshop, delivered valuable feedback and new insights on how ERCIS partners approach data privacy issues."